Navy Detransitions From 'Digital Recruiting Program' Featuring Drag Queen
Navy Detransitions From 'Digital Recruiting Program' Featuring Drag Queen
With the US military in the midst of a recruitment crisis, the Navy has decided to reverse course on its Digital Recruiting Program which featured an enlisted drag queen.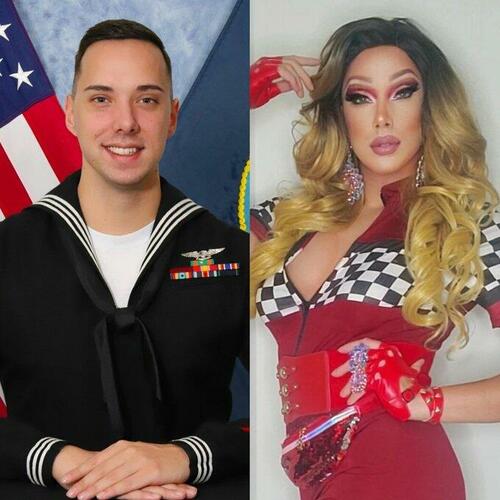 Four months ago, the Daily Caller noted that the Navy had brought on active-duty drag queen, Yeoman 2nd Class Joshua Kelly, who goes by the stage name "Harpy Daniels" and identifies as non-binary. The goal was to make Kelley a "Navy Digital Ambassador" in a pilot program which ran from October 2022 to March 2023, and was "designed to explore the digital environment to reach a wide range of potential candidates."
Putin must tremble in fear when he beholds the US Navy's new 'digital ambassador' whose role is to get more recruits. Presenting the fabulous Harpy Daniels aka Joshua Kelly. 🤡 pic.twitter.com/FwNCzSrlsW

— David Vance (@DVATW) May 3, 2023
In a Tuesday letter to Sen. Tommy Tuberville (R-AL) from Navy under secretary Erik Raven, the service confirmed that the Digital Ambassador Pilot program "will not be continued."
"The Navy learned lessons from the pilot program that will inform our digital engagement and outreach going forward," wrote Raven. "Our digital outreach efforts will maintain the important distinction between Sailors' official activities and their personal lives."
Tuberville — who sits on the Senate Armed Services Committee — previously sent a letter to Admiral Michael M. Gilday, the chief of Naval Operations, in May, demanding to know the identities of the officers tasked with funding and promoting drag queen shows aboard naval vessels. The letter was sent the same day the Alabama senator and his Republican colleagues submitted a separate communique to Navy Secretary Carlos Del Toro on the branch's embrace of Daniels and whether Navy leadership is encouraging its "digital ambassadors" and public affairs personnel to use TikTok — which the Pentagon banned its members from using on government-issued devices — "on their personal devices" in order to skirt the agency's prohibition. -The Federalist
Recruitment fail
As the Epoch Times notes, the Navy expects to fall short of its annual recruiting goal by around 7,000 sailors when the fiscal year ends this month.
At a Senate Armed Services Committee hearing on Thursday, acting Chief of Naval Operations Adm. Lisa Franchetti announced that the service is on track to miss its fiscal year 2023 goal—ending Sept. 30—to bring in 37,700 active duty enlisted sailors. The service also aimed to recruit 2,528 active duty officers, 8,200 reserve enlisted sailors, and 1,940 reserve officers.
Adm. Franchetti's latest recruiting projection is worse than the 6,000-recruit miss she predicted in April, but not the worst outcome Navy officials have considered this year.
"We started out the year thinking we'd be about 13,000 short," Adm. Franchetti told Senators on Thursday.
"We're going to be about 7,000 short. We're doing better month by month than we were last year."
NTD News reached out to the Navy for additional comment about its recruiting efforts this year but did not receive a response by the time this article was published.
The Navy brought out several new measures to drive recruiting this year, including raising the maximum enlistment bonus to $75,000 and raising the maximum enlistment age to 41 years old.
The service also changed its standards to allow recruiters to take candidates who scored in the 10th to 30th percentile on the Armed Forces Qualification Test (AFQT). The revised standards permitted recruiters to fill around 20 percent of their fiscal year 2023 quota with candidates who scored in the 10th to 30th percentile on the AFQT, dubbed "Category IV" candidates.
Military Recruiting Woes Stretch Into Second Year
The Navy is not the only military service expecting to fall short of its recruiting quotas for the year. This week, the U.S. Air Force announced it is on track to bring in about 2,700 new airmen fewer than it had planned for fiscal year 2023, missing this year's goal to bring in 26,877 new recruits by about 10 percent.
The U.S. Space Force—which is organized under the purview of the Department of the Air Force—did manage to overshoot its recruiting quote for the 2023 fiscal year.
Tyler Durden
Sat, 09/16/2023 - 20:25
Related Posts
ented about the Congressional Black Caucus, as though he had completely forgotten who he was appearing before. No, Joe, they aren't the same. ]]>...
ustice Department pushed for an aggressive approach in the search for classified documents at Donald Trump's home, according to a senior FBI official....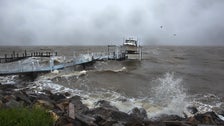 nts in parts of coastal North Carolina and Virginia experienced flooding Saturday after the storm made landfall near a North Carolina barrier island. ...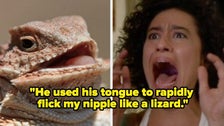 They said what they said. ...